USA
In 1999 he came to United Estates and  he  keeps recording and producing this instrumental music where  he merges rhythms of jazz, classical music and tango with tropical  and Middle Eastern sounds.
The productions "Music for Babies", "Music for Pets", "Deco Music" , with  special techniques developed by him adapted to the needs of babies, pets and adults;  are part of this musical concept
At the same time, Felix has continued arranging and recording music for commercials, films  and TV shows.
Felix is currently  the music producer of "Caso Cerrado", one of the most important  Latin shows and the first   time nominated program   for a daytime Emmy from a Spanish-language network. 
Felix not only has received international recognition for his music, he has also been recognized for his unselfish and tireless support of many humanitarian causes. In 2009 the Argentine branch of the Universal Parliament of Religions, has named Felix Pando as Ambassador of Music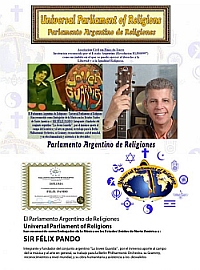 Previous page